Spring Cleaning the Outside of Your Home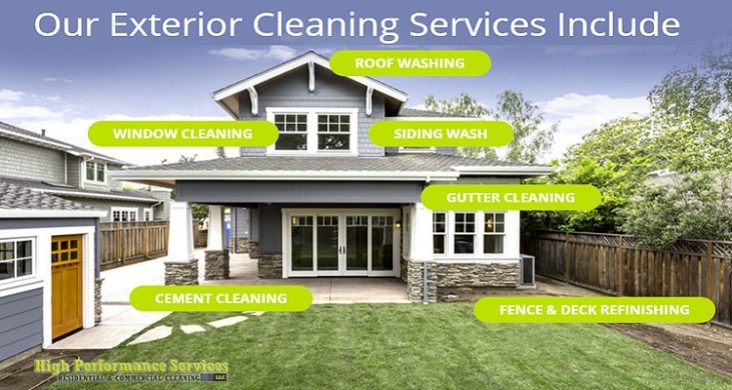 Spring officially arrives in just a couple of weeks, on Tuesday, March 20th, 2018 at 12:15 pm (Eastern Time). Now is the time to start thinking about your spring cleaning — not only the inside of your home, but also the exterior. High Performance Services is here to help. We offer many exterior cleaning services.
When you talk about exterior cleaning for your home, most people typically think about house washing. Over the fall and winter months your home can begin to look pretty dirty. Improve the curb appeal of your home by letting High Performance Services clean your vinyl or cedar siding. Over time your home is exposed to many elements — sun, rain, wind, ice, wind, animals, plants, algae, etc. Some of those things can stain or discolor the exterior of your home. It's also important to use the proper cleaners and techniques to maintain your home in the best condition possible. Your home is probably the biggest purchase you will make in your lifetime. Why not keep it looking its very best using the best techniques available?
High Performance Cleaning offers more than just house washing! We can also clean the algae that causes black streaks on your roof. There are always windows that need to be cleaned. Don't forget that the leaves and sticks need to be removed from the rain gutters for them to work properly. Along with keeping your house looking nice, we also can clean the concrete surrounding your home.
And finally, don't forget about your deck and fence. High Performance Cleaning can also do fence and deck cleaning and refinishing — making everything look fresh again for the upcoming summer season.
High Performance Cleaning serves communities all along the Lake Michigan Shoreline
Our coverage area goes from from Grand Haven to the south, all the way up to Charlevoix to the north, serving communities including Ludington and the Traverse City area.
Give us a call today at (231) 299-9296 to get a quote and schedule your Spring Cleaning.