Soft Wash Your Home. Don't Use High Pressure Cleaning Techniques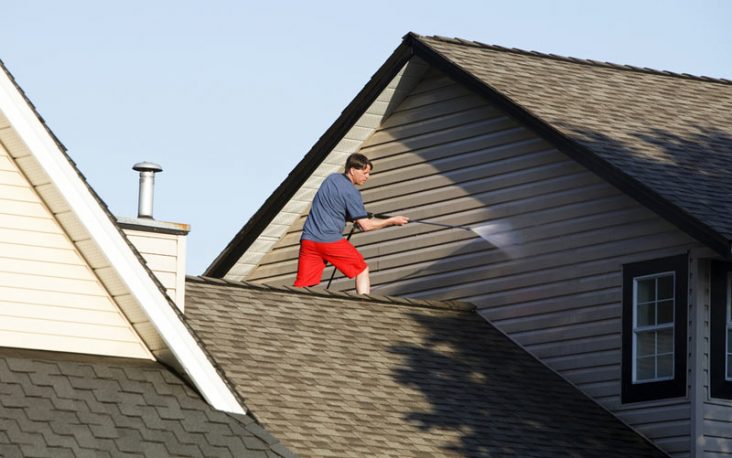 There is a proper, and an improper way to clean your home and roof. You should Soft Wash your home. Don't use high pressure cleaning techniques.
Using a high pressure washer can force water behind your siding or under your roofing materials. Some insurance companies may deny your claim for improper pressure washing jobs that have caused damage due to the water getting behind siding and exterior trim. Pressure washing your roof can also damage the shingles and remove the granules on the surface of the roofing material. This will reduce the life expectancy of your roof. Pressure washing can also ruin window seals and could cause damage due to leaks into your home. High Performance Services uses a low pressure Soft Washing technique that does not harm your home and roof.
Our Soft Washing system uses a much lower pressure and special detergents to kill the harmful algae and contaminants that grow on your shingles and stain your roof and siding. Plus, our detergents are safe for your lawn and landscaping. You can be confident knowing that your roof and home will look great without harming your trees, shrubs and grass.
Our employees been properly trained by certified organizations on how to wash correctly. All of our employees are trained on the proper techniques to clean your home.
High Performance Services were the first ones to be trained in this area using the Soft Washing technique.  We know our stuff and have reasonable pricing.
High Performance Cleaning serves communities all along the Lake Michigan Shoreline
Our coverage area goes from from Grand Haven to the south, all the way up to Charlevoix to the north, serving communities including Ludington and the Traverse City area.
Give us a call today at (231) 299-9296 to get a quote and schedule your Soft Wash Exterior Cleaning.