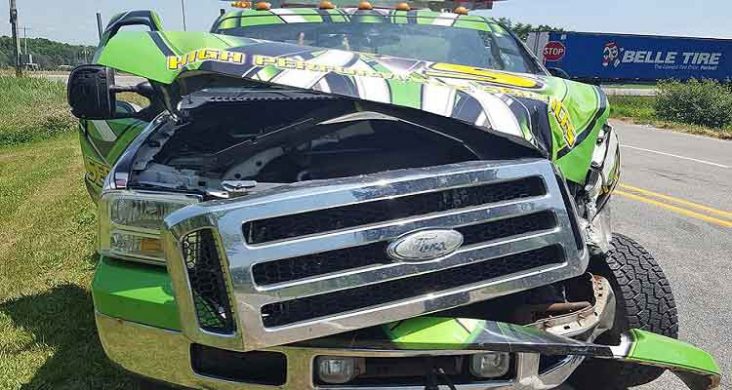 The end of June, our Traverse City crew was involved in an accident. A big motorhome ran a stop sign on M-37 and ran in to the High Performance Services vehicle. Thankfully everyone was OK — but our truck was a different story. The truck was totaled!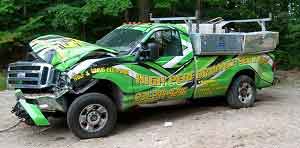 Pictures just can't show how bad of shape the wreck left our truck. The vehicle was actually worse than it appears in the pictures. The insurance company decided that the truck was not worth trying to fix and "totaled" the truck.
For a lot of companies a crash like this would have knocked them out of business for a period of time while they replace their truck and their equipment. Fortunately, at High Performance Services we have back-up equipment and resources — so there was NO work stoppage and NO delays to our customers. Just a major inconvenience on our end, but that was for us to deal with.
We now have a new truck and everything is back to normal. Look for us in your neighborhood! We will be out in the community, cleaning the exterior and interior of your homes and businesses.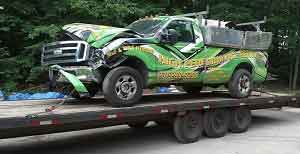 Now we just need to make sure we keep our crews busy! Schedule your services today. Make sure your home and business looks the best that it can as we transition from summer into fall here in West Michigan.
Offering Many Different Services
At High Performance Services we offer a variety of different cleaning, including exterior house washing, roof washing, window cleaning, concrete and brick cleaning, and deck restoration and construction. In a few months we will also be offering Ice Dam Removal and Chimney Cleaning and Inspection.
If you live anywhere from Muskegon to Traverse City — we work those areas. We look forward to hearing from you. Call us today at (231) 299-9296.